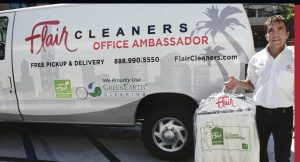 School's back in session and you finally have time to balance office work, home responsibilities and chores, right? Wrong! With school comes an entirely new slate of activities. There may be trips to and from sports and band practices and competitions, clubs, scouts, dance, and art activities to name a few. Add to that parent obligations like school activities, teacher conferences, fund-raising, and so much more. It's no wonder some things simply don't get taken care of, like dry cleaning.
Office Ambassador
At Flair, we understand. While we can't give you more hours in the day, we can make it easier to check dry cleaning and laundry off your "to do" list. With our unique Office Ambassador program, you simply toss your laundry and dry cleaning in the car, take it to work, leave it at the designated location, and forget about it. We'll pick it up and return it the same week, clean, fresh, and ready to wear. Our automatic billing system ensures that you and your co-workers will not be disturbed when we return your cleaning order.
In addition to saving time, our Office Ambassador members save money with monthly specials, special pricing, and bonuses. As a thank you, new Office Ambassador members receive up to four (4) garments cleaned free on their first order.  In addition, we'll clean every item at half price for the first thirty days of membership. Flair's Office Ambassador is available through all five of our locations – Burbank, Redondo Beach, Santa Monica, Studio City, and Valencia.
With the flurry of back-to-school activities quickly filling your calendars, let Flair Cleaners leave you with one less errand to remember.  Call Valerie, our Office Ambassador, at 888.990.5550, or send her an email at officeambassador@flaircleaners.com, and enroll your company today.