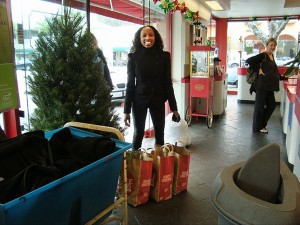 We live here, too, which is why we are dedicated to supporting the neighborhoods where our stores are located and the individuals who make a difference every day in our lives. And every year, we bring our communities together to help make a difference in the lives of others. It's all part of being a good neighbor.
Holiday Clothing and Shoe Drive
In December our Annual Holiday Clothing and Shoe Drive supports the efforts of local nonprofits like Helping Hands for the Blind, St. Vincent de Paul's Thrift Store, and the National Council of Jewish Women Thrift Shop, that serve those in our communities who are in need.
Flair Cares Spring Food Drive
To support our communities, we host a Flair Cares Food Drive at each of our five locations. With our customers, and with matching contributions from Flair, we donate hundreds of pounds of non-perishable items to food banks supporting residents in Burbank, Redondo Beach, Santa Monica, Studio City and Valencia.
Flair Cares Package Drive
Flair is committed to supporting American service men and women and their families through our Annual Flair Cares Package Drive. Working with established nonprofits like the Bob Hope USO and others, Flair and its customers collect personal care items that are distributed in care packages to our troops, ill and injured service personnel, and military families.
Community Support
Annually, Flair Cleaners donates thousands of dollars in gift certificates to support our communities' schools, charities, religious organizations, civic groups, veterans associations, and other worthwhile causes. In addition, Flair provides year-round military discounts and complimentary flag cleaning. For more information on this program, please contact us through our website or Facebook page, or stop by your local Flair Cleaners.