Welcome to Flair Cleaners Redondo Beach
Current Store Hours
M–F7:00 am – 7:00 pm
Sat8:00 am – 5:00 pm
Sun10:00 am - 4:00 pm
Services
Open 7 Days A Week
Drive-thru Drop off and Pickup
Tailor On-Site
Home Pickup and Delivery
Office Pickup and Delivery
Gift Cards Available
View Price List
Community
We support schools and non-profits throughout the community.
Voted "Best Dry Cleaners in the South Bay" –
The Beach Reporter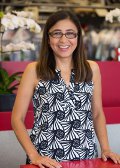 Welcome and thank you for choosing Flair Cleaners in Redondo Beach. We are confident that you will be delighted with our services. All of us are pleased that you trust us to care for your dry cleaning and laundry needs, and we work hard every day to keep your confidence. Please take a moment to look through our website as the details here will help you make the most of our services. Of course, if you have any questions, please contact me. I look forward to seeing you on a future visit.

Ana Abdelaal, Manager
aabdelaal@flaircleaners.com
Flair Cleaners Redondo Beach
1900 Artesia Blvd.
Redondo Beach, CA 90278
(One Block East of Aviation)