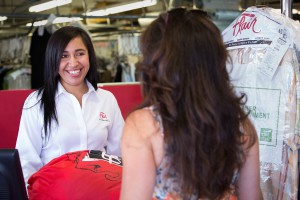 Flair Dry Cleaners works hard to give your clothes the care you expect. Here are just a few of the things we do to show we care:
• Our staff greets you warmly when you arrive. Our professionals in Redondo Beach, Santa Monica, Burbank, Studio City and Valencia, listen to your concerns and work with you to ensure all your dry cleaning and laundering needs are met. We know that a satisfied customer means a return customer and we strive to make your dry cleaning and laundering experience a good one.
• Does your cleaners have on-site cleaning? Did you know that not all dry cleaners do their own dry cleaning? There are many cleaners who transport your garments to be cleaned off-site using out-sourced labor. This can add time to your clothing being returned to you. All cleaning and laundering services are completed on-site at each individual Flair Cleaners location. We take pride in being able to deliver prompt, speedy and excellent service to our customers.
• We offer other additional services. At Flair Cleaners, in addition to environmentally safe dry cleaning services, we  meet your needs for tailoring and alterations; wedding gown restoration and cleaning; leather and suede cleaning; fluff and fold launder services; and fire and water restoration of clothes, bedding and linens. In addition to these services, we strive to make your Flair experience as easy and quick as possible by offering a VIP Express program and an Office Ambassador program. Learn more about all these services at our website.
• Sometimes, finding the time to drop off or pick up your dry cleaning can be tough. After all, most people work during the same hours that many dry cleaners are open. Each of our five locations is open seven days a week for your convenience.
Flair Cleaners is proud to  meet all your dry cleaning and laundering needs by offering extended hours and special programs that simplify drop-off and pick-up. We strive to make sure that you, our valued customers, know we care about you and your dry cleaning needs.