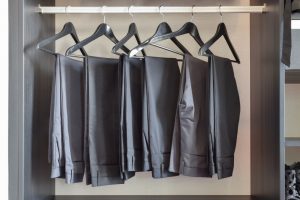 There is no exact timeline for dropping your pants at the dry cleaner. In fact, it's more important to know why they need to go to the cleaners than to follow a time table. Essentially, there are five times to take your pants to the cleaner.
Dry Cleaning Pants
The most obvious reason would be when they are dirty or have absorbed odors from the environment. The general rule of thumb is to have pants cleaned after wearing them three to four times. Even if you can't see visible dirt, they probably could use a good cleaning.
One of the most important times to have them cleaned is when they've been stained. In this case, time is of the essence. The longer the stain "sits" on the fabric, the less likely it is to come out completely. Never try to remove a stain yourself, and never rub the spot as it only presses the stain further into the fibers.
If you have a suit jacket that needs cleaning, always take the pants as well. Cleaning of any type causes subtle changes in colors. Cleaning the jacket and pants separately results in mis-matched pieces.
Press to impress! Take your pants to the cleaner for professional pressing. If you've worn them a couple of times and they appear spotless, a pressing may be all that's needed to make them look like new.
Finally, if they say "Dry Clean Only," take them to a dry cleaner. While you may believe you can clean them at home, over time the fabric and/or dyes used will wear much more quickly than when professionally cleaned.
To ensure the best outcome, always use environmentally safe cleaning solutions, like the GreenEarth process used at Flair Cleaners. This ensures your pants – and other clothing – won't be harmed by dangerous chemicals.
Pant Care Between Visits
These tips will help you keep your pants looking their best between trips to the dry cleaners.
Don't wear the same pair every day. Rotate them to prevent overuse and damage.
Steam out wrinkles before wearing for a fresh pressed look.
Gently brush off dirt or food particles after you wear them. Go against the grain of the cloth and use short, quick strokes. Finish with a second pass that goes with the nap.
Hang them on a good pants hanger after wearing.
Empty pockets to avoid creases or odd shapes.
For more information or professional care, visit any of our Flair Cleaners locations.