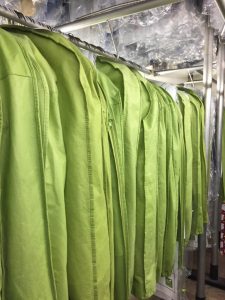 If you've been to Flair Cleaners Redondo Beach you'll know that the professionals who work there are more like family than employees. Of the 21 employees, two have been with Flair Cleaners since the Redondo Beach location opened in 1997. The others average between 10 and 15 years of employment with Flair Cleaners. Ana Abdelaal, the location's manager, has worked with Flair since 1993, and in Redondo Beach since the store opened.
Redondo Beach By The Numbers
Each week the professionals at Redondo Beach launder 3,000 shirts, dry clean about 3,500 garments, and clean 20 comforters.  They have two state-of-th-art dry cleaning machines that they run only with the GreenEarth Cleaning process, and two laundry machines. In addition, their finishing area has a presser, a cuff and collar presser, a sleever and three utility presses. Each machine is operated by an individual trained specifically and carefully for that aspect of clothing care. Each shirt, for example, goes through a 12 step process before being returned to a customer!
Ana tells us that occasionally they have some surprises and special requests from customers. The surprises include finding jewelry, watches, sunglasses, keys, and substantial amounts of money in pockets. All these "finds" are stored safely and securely until they are returned.
"Once a customer asked us to clean a giant Hello Kitty head," said Ana Abdelaal, manager. "More often, though we get straightforward requests like no creases, return the clothes with all the hangers facing all the same direction, or button all the buttons before returning a shirt."
Like all Flair Cleaners, Redondo Beach offers hanger and plastic bag recycling, and The Better Bag. About 30% of customers recycle on a regular basis. "Customers love that we use GreenEarth," Ana says. "They appreciate that it's odorless and natural; I like it because it's safe for them and for my employees."
The professionals at Redondo Beach consider their customers family. That's one more reason to trust your clothes to their care.