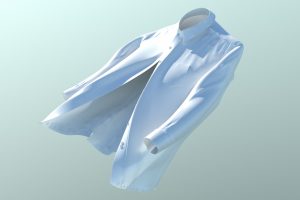 We've all seen the cartoons and MEMEs – starched shirts that make people who wear them look like there's a board down their back! That's not always the case. Starching shirts can have benefits like a cleaner, crisper look, and improved resistance to stains and wrinkles. If you do ask for starch, you probably have your own preference depending on the shirt and where it is worn. That's the beauty of starching shirts. By choosing no starch, light, or heavy starch, you decide how your shirts look and feel.
For the most part, our customers use starch on business and formal wear. These items look better when the fabric is crisp. For every day wear, most people skip the starch. Historically, however, starching was common for all clothing. In fact, starched clothing has been traced as far back as the 16th century.
At Flair Cleaners, we recommend that you use either no starch or light starch. This will give you a crisp shirt with some stain protection, but won't cause the shirt to wear out like they may when using heavy starch.
Benefits of Starching
It's natural. Over 80% of all commercial starch is derived from corn. Stains are easier to remove as starch helps prevent them from penetrating fabrics. The starch seals the individual fibers making it more difficult for stains to penetrate through the fabric.
Regularly starching your clothing will also hold that pressed appearance longer.
Clothes are more resistant to wear from rubbing.
Whites stay white longer.
Challenges of Heavy Starching
Shirts wear faster where stressed from repeated bending and straightening.
Fabrics are less able to stretch, so collars feel tighter.
Starch can build up causing unpleasant stiffness. This is unavoidable.