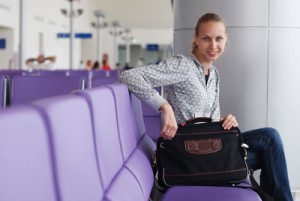 It's vacation time!  We hope you have a fabulous time and that you bring back tons of memories and souvenirs.  But beware of nasty stowaways – bed bugs!
Bed bug infestation is on the rise, and one of the most common ways bed bugs can come into a home is by being transferred after vacations via clothing, beach towels, and suitcases.
When you are away, examine beds and headboards, nightstands and dressers for signs of bed bugs. Look for the bugs themselves and the light-brown, molted skins of the nymphs. Dark spots of dried bed bug excrement are often present along mattress seams or wherever the bugs have resided. Empty nightstands and dressers and examine them inside and out. Often times, the bugs will be hiding in cracks, corners and recesses.
If you find signs of bed bugs, do everything you can to get different accommodations. Even if there are no signs of bed bugs, always keep your luggage elevated off the floor as a preventive measure.
When you get home and find you've brought some unwanted stowaways, these steps will help you get rid of them:
Remove or treat all infested materials as soon as you detect the bed bugs.
Wash all bedding and clothing in hot water – 120 to 125 degrees.
Dry in a hot dryer.
Vacuum along mattress seams, baseboards and other areas.
Place vacuum bag in a tightly sealed plastic bag for disposal.
Apply pest control spray around the entire home, inside and out. To make this spray: Mix 18 ounces of water with 18 drops of tea tree oil and spray the entire house with it – the carpets, beds, and furniture.
If you bring your infested items to Flair for cleaning, be sure to secure everything in a plastic bag and make sure our staff know about the problem. We're happy to help.