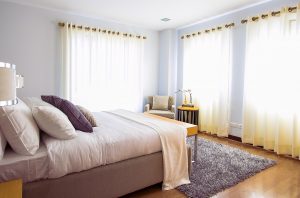 We're all familiar with spring cleaning, and most of us have items we clean once a year during this season. But, there are three items in your home that should be put on your bi-annual cleaning list: pillows, window treatments, and rugs.
Pillows
Take your pillows to the dry cleaner at least twice a year. Just think about how many hours you spend on that pillow in six months and you'll probably agree that your hardworking pillow is due for some care. At Flair, our professionals will ensure your pillows are returned fluffy and ready for a good night's rest.
Window Treatments
Window treatments can set a tone for a room or a home, from playful and casual to formal and luxurious. Because they are located near windows that may often be open, and due to their size, they can be a haven for dust mites.  Bi-annual cleanings help keep allergens at bay, prevent dust from window treatments from spreading into your home on breezy days, and keep your air nice and fresh.
Rugs
Many people clean their rugs regularly at home, which keeps them looking nice by removing surface dust and dirt. Rugs, however, should be deep cleaned on a bi-annual basis. We recommend a professional carpet cleaner for wall-to-wall rugs. For throw rugs, however, bring them to Flair and check this item off your to do list.
Flair is here to help with your bi-annual cleaning list, and if you use our home delivery, taking care of this chore is as easy as putting your cleaning out for pickup. And, with our web coupons, you can save 25% off your order any time.