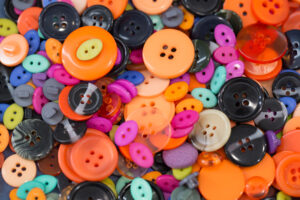 "You may turn into an archangel, a fool, or a criminal – no one will see it. But when a button is missing – everyone sees that." Author (All Quiet On The Western Front) Erich Maria Remarque's observation about buttons was spot on!  Buttons are one of the most important parts of a dress shirt, suit, and may other garments, but also the most overlooked when it comes to upkeep.
At Flair, we understand this, which is one reason button care and replacement is a fundamental step in our process. It's also why you should bring your dress shirts to Flair. There is nothing more embarrassing than having a button pop off in the middle of a meeting, date, or dinner with friends.
Buying High-Quality Buttons
It's important to assess the quality and use of buttons before you buy a garment. This makes maintenance and care much simpler.
Check to see if the buttons are spaced evenly and secured by multiple threads underneath. This helps keep them in place. Be certain extra buttons are included. Quality clothing typically has at least one extra button attached to the label or hem.
Next check the buttonholes. These should always be reinforced with densely stitched thread. This keeps the buttons from pulling or even ripping the fabric. No raw edges of the fabric should be visible through the stitching.
Keyhole buttonholes should be used on jackets, cardigans, and garments that present a clean silhouette. This means they include a round hole on one side, allowing the button to sit comfortably in the hole without distorting the fabric.
Button Care
Inspect buttons (and buttonholes) every time you launder or dry clean any garment. Check for loose threads that may cause a button to come off. Do you see cracked, broken, or missing buttons? Dry clean garments with buttons that can't be washed to prevent damage. If you're not sure, ask the customer service rep at your local Flair Cleaners before washing at home.
While important, button care is generally overlooked until it's too late. To prevent embarrassing mishaps, bring your shirts (and other items) to Flair. You will always be buttoned up and ready for any occasion when we care for your clothes!