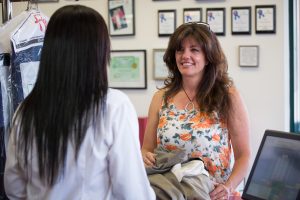 When you buy clothes you typically think about the occasion, place or time you'll be wearing it. We rarely consider the cost and type of cleaning it may need or how long it will last. At Flair Cleaners, we encourage our customers to think about cleaning before they buy any new outfit.  Read the care label, any hang tags or care instructions on the packaging to get a quick idea of what will be involved.  Consider the type of fabric, the dyes used and any adornments like sequins, beads or lace.
It is impossible to know simply by looking whether the color of an outfit will remain vibrant despite exposure to sunlight, water or spot removers. Labels and care tags can provide important information about this. For example, the labels in some blue jeans and other denim clothing read, "guaranteed to fade."
The type of dyes are used on a garment can affect the colorfastness (its ability to remain unchanged) of clothing, regardless of how the color is applied. Different dyes have different degrees of fastness; for example, one may stand up better to washing than to exposure to light. In general, more expensive garments are made with better dyes, but this is not always the case. When dressing or caring for you clothes, keep in mind that colorfastness may be affected by perspiration, air pollutants, salt water, atmospheric gases, bleach, perfume, deodorant and body sprays.
Fabric choices have an impact as well. Linen, while cool, casual and inviting, can wrinkle easily While stunningly beautiful and rich, fibers like cashmere, angora and mohair lack durability and can shrink even when cleaned with the utmost care. Outfits made with lightweight, loosely woven gauze or wool often snag or become distorted with every day wear and cleaning.
Tailored outfits often use fused interfacing in the collars and lapels. When improperly fused during manufacturing, the interfacing can blister and wrinkle when dry cleaned. It's always preferable to purchase garments with interfacing that is stitched instead of fused.
Adornments should be considered as well. Bead work, sequins, jewels and other embellishments can come off easily and quickly depending on how they are applied.
The professionals at any Flair Cleaners location – Redondo Beach, Santa Monica, Valencia, Studio City, Burbank – are more than happy to answer questions  about the durability and cleaning of any outfit you buy.