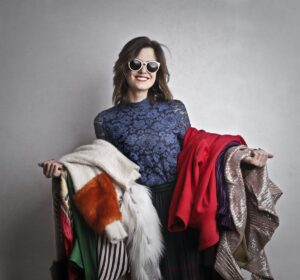 You hit gold on your latest shopping trip and now have wonderful new additions to your wardrobe. But, how do you maximize your wear time? What goes into caring for different fabrics? Our team put together a few guidelines to help you with proper care so you can enjoy your new finds season after season. Please note that these are guidelines and variations will apply to some fabrics. 
General Fabric Care
Pre-wash all washable natural fibers that you will be washing in the future, as some shrinkage may occur. Do this the same way you plan to wash each item in the future; including drying.
Wash light and bright colors separately. This prevents color transfer as some dyes may run in the first few washes.
Some fabrics require special care or even dry cleaning. These include satins, sequinned, beaded, coated,or foiled fabrics, specialty weights or styles, and delicate items. If care instructions are unclear or provided, bring the items to Flair for our professional advice or care.
Specific Fabric Care
Merino Jersey – Machine washable on a gentle or wool cycle using a wool detergent, do not wring or bleach. Tumble dry on cool or hang indoors to dry.
Silk – Dry clean only. To touch up, use a warm iron on the silk setting.
Cotton / Linen / Hemp- Machine wash keeping colors separate. Do not twist; tumble dry on a cool setting or hang dry indoors to avoid fading. Iron on a cotton setting. You may want to dry clean garments with these fabrics to prevent color fading and shrinking.
Rayon / Viscose / Triacetate / Tencel / Lyocell – Machine wash in cold water or hand wash, keeping colors separate. Never wring or twist to get the water out. Iron on the reverse side using a warm iron. Dry cleaning is an option for these fabrics and preferred when they are blended with other fibers,.
Wool – dry clean only. To touch up, use steam when pressing—brush wool to remove surface soil.
Acetate – Machine wash or hand wash in warm water. Wash colors separately; do not twist dry. Use a slightly warm iron on the reverse side. You may get better results with dry cleaning acetate.
Laces / Jacquards – Dry clean only. NOTE: These fabrics may be delicate, so be careful against rough surfaces to avoid snagging.
Velvet – Dry clean only. Do not spot clean. Never iron as it may crush or flatten the natural pile. Hang your garment in a steamy bathroom to remove wrinkles and creasing. Always hang Velvet garments. Avoid using clip hangers as they can bruise or mark the fabric.
Nylon / Polyester – Cold machine wash, do not bleach. Wash colors separately; do not twist/wring. Tumble dry using low temperature. Iron on the coolest setting.
As you can see, clothing may use these or any number of other fabrics and fibers, like Bamboo. Often, clothing incorporates more than one type of fabric, making cleaning even more challenging.
For best results, consult a Flair professinoal or leave the washing, drying and dry cleaning to us!