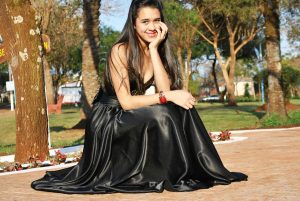 It's prom season, time for parents and daughters or girlfriends to shop for the "perfect" dress – the one and only of its kind,  the one no one else will have.  Once you've found your special dress, you will probably want to model it for family and friends, taking it in and out of the bag, or off and on hangers, and trying it on repeatedly. Keep in mind, that dresses with any type of beading or embellishments can be very delicate, especially if the beading is hand-sewn or if it is on  tulle. Here are a few tips to ensure that your prom dress will be ready to make you look good on your special night:
Store your dress in a waterproof, breathable garment bag.
Keep it away from moisture, direct sunlight and pets.
Instead of constantly trying it on, keep it a surprise or take a selfie to share with  friends. This lessens the wear and tear caused by repeatedly trying it on.
If you need alterations, take your dress to the closest Flair Cleaners and work with our professional tailors to get the perfect fit.
If the dress is wrinkled, bring it in to Flair for professional pressing and finishing before the big night.
If you decide to get a spray tan for prom, be sure to have it done a day or two before so any residue washes off before you step into your beautiful gown. Also, apply deodorant, make-up, hair spray and perfume before you put on your dress to avoid stains and spots.
After prom, have your dress professionally dry cleaned before you store it. Visible and invisible stains can set and attract insects if clothes are not cleaned before storing. Store your dress in a cool, dry place. An excellent storage place is the top shelf of your closet. Lay your dress flat in a sealed box or garment bag. Check your gown regularly to ensure that it is not damaged.  Avoid areas with natural sunlight, as it can severely discolor your dress over time. Also, stay away from attics, basements and storage units as they  are often excessively hot or moist.
Most of all, have fun. From all of us at Flair Cleaners, congratulations on prom and best of luck on the next part of your life's journey.