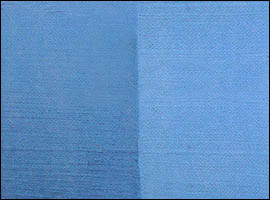 Unless your clothes are off-white, beige or tan, the chances are they have been dyed to add color. Even some whites are dyed to make them pristine and bright. Over time, the colors in the dyes fade. However, with proper care even your colors will last a long time.
Be Aware of Your Colors
First, check the care labels. Any garment that says "Dry Clean Only," means the dyes will withstand dry cleaning, but may bleed or fade with other cleaning methods. If the label says "Machine Wash" it should mean colors will stay bright when washed at home. Unfortunately, this is not always the case and colors fade or bleed, often on to other clothes in the same load.
Added to this, the color in clothes and household items do fade over time. How fast depends on the type of dye the manufacturer used in the fabric.
Water-based dyes can discolor when laundered or exposed to rain, perspiration, or water. A simple water spill can spread on certain fabrics and can create rings or streaks. These may not come out, especially in silk and satin, even with dry cleaning.
If a color is created by blending two or more dyes there is a chance that each reacts differently to different cleaning treatments. In this case, the colors can separate. For example, if a green dye is made with an unstable yellow pigment, the yellow can fade leaving a bluish green or simply blue color after repeated cleanings.
Preserving Colors
Always read and follow care instructions.
Protect your clothes from excessive exposure to light.
Clean all pieces of a suit/ensemble together each time so one piece doesn't fade faster than the others.
When in doubt, bring your garments and household items to one our five Flair Cleaners locations: Santa Monica, Valencia, Studio City, Redondo Beach, or Burbank. Our professionals will know exactly how to clean your colors so they last as long as possible.