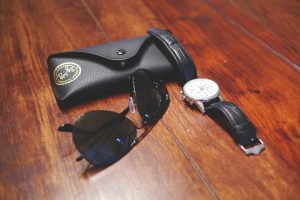 Most people don't think about accessories when it comes to men's fashion, but the right accessories can make a big difference when creating a stand-out style. High quality, functional and stylish accessories are perfect as they can stand the test of time. Here are a few tips on some common accessories for your styling:
Watches. Despite the popularity of sports watches, the general rule is that the simpler the watch, the more versatile it is. Or stock your dresser with a selection of watches for all occasions – a sports watch, a watch with leather bands and a watch with a metallic band in silver and/or gold.
Rings. Always wear your wedding ring. Other rings are optional and can be used to convey membership (college, clubs, etc.) or your personal style. More than two rings – one on each hand – is too much.
Bracelets. In many countries, bracelets are a sign of power and position. Be aware of this when traveling, especially on business. The key to pulling off a bracelet as a man, of course, is to make sure your choice jives with your overall style. Check out this article for more information.
Sunglasses. Regardless of the style, make sure they are clean. Keep a classic, high quality pair in your wardrobe for everyday use, and at least one less expensive, disposable pair for sporting events or activities where they may get damaged.
Wallet. The right wallet is one that meets your needs. If you travel often, you might want a wallet that's large enough to hold your passport, money and travel papers. For daily use, a slim wallet that fits in your back pocket is best.
When choosing the right accessories, always remember that they should enrich your wardrobe. If you choose accessories that need cleaning, our professionals are here and ready to help you in Santa Monica, Valencia, Redondo Beach, Studio City and Burbank.