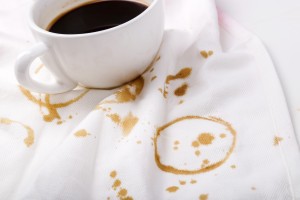 Thanksgiving marks the beginning of another holiday season filed with merriment and feasts. And, as we all know, it is virtually impossible to get through holiday meals with the linens and tablecloths perfectly clean. While holidays should be spent with friends and family, it is important to remember that when treating stains, time is of the essence.
There are some stains that seem to recur every holiday season. While candlelight lends a festive atmosphere to holiday meals, wax on your table linens is not. If wax drips onto your linens, it is important to let the wax cool completely. If there are large globs, gently lift them off then take your linens to any Flair Cleaners location – Burbank, Valencia, Santa Monica, Studio City or Redondo Beach – where our professionals can properly remove the residue and stain that may work its way deep into the threads.
Wine and coffee stains are commonplace at large dinners. If spills occur, do not rub. Instead, place absorbent towels or paper towels under the table linen to absorb the excess liquid. Rubbing the spill may work it deeper into the fabric. Once dinner is complete, take the table cloth to Flair where you can get same day service on most orders.
Salad oil is perhaps the worst spill of all because if left untreated, it will yellow the best of linens. While there are spot removers that claim to work well on oils, it is always best to take your fine linens to a Flair Cleaners location. Our professionals are trained to match the best treatment for the specific fabric to the exact type of oils causing the stain.
Taking care of stains as soon as possible is always a good idea. Stains tend to set and become more difficult to remove completely the longer they are left untreated. If you have antique linens, it is best to bring your linens immediately to Flair and let our experienced cleaners treat them with the care they deserve.
The professionals at Flair Cleaners hope your holidays are festive and stain free, but if you need us, we are here to help.