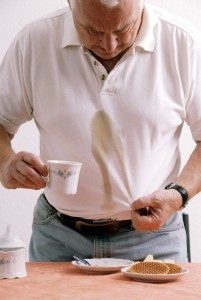 We're delighted that you depend on the professionals at our five Flair Cleaners locations for your clothing care needs. To help us deliver the best results, however, there are things you should do – and should not do – before you bring your soiled garments or linens to Flair. We polled the professionals at our locations to provide you with the best clothing care advice possible.
10 Clothing Care Do's
Read and save the cleaning care tags that come with your clothes, bedding and household items. If they've become separated from your cleaning, bring the tags to Flair when you drop off your order.
If there is a spill, blot excess liquids with a lean cloth.
Bring stained clothes into Flair Cleaners immediately. The longer you wait, the more chance the stain will set permanently.
Brush excess surface dirt and dust from your clothes regularly.
Dry wet or damp garments in a cool, well-ventilated area before storing.
Bring your clothing and household items to Flair Cleaners every six months, even if they have not been used or worn. Dirt accumulates from dust, dampness, and air pollution every day.
Tell your Flair professional about stains and what caused them when you bring your clothes to Flair Cleaners. If you use our Office or Home Delivery services, pin a note to the item near the stain.
When hanging clothing, sort by color to avoid fume fading.
Unbutton all buttons on shirts and other garments.
Check for tears, worn cuffs, or other items that can be fixed by our tailor. Point these out when you drop off your order.
10 Clothing Care Don'ts
Never rub a stain or spot to try to remove it. This will only push it deep into the fibers.
Avoid home stain removal treatments. Even water can set stains, especially if they are oil-based.
Do not dry damp or wet clothes by an open flame or heater. The heat may damage or burn the item.
Never iron a stained or spotted item as the heat may permanently set the stain.
Do not use nail polish remover to remove nail polish spills. The chemical in the remover may take all the color out of the garment or linen, and may even burn holes into the fabric.
Avoid putting on tops or dresses before you apply perfume or deodorant.  These chemicals may spot or cause stains on fabrics.
Never hang knitted garments like sweaters on hangers. If you do, they will stretch and lose their shape.
Do not store seasonal items without dry cleaning them first.
Don't leave personal items in your pockets when taking your clothing in to Flair Cleaners for cleaning.
Never clean different pieces of a matching outfit or suit, or of a bedding set separately.
While we know this is a lot to remember, we hope it is helpful and provides the guidance you need to protect your clothing and household items after they've been cleaned by Flair Cleaners.