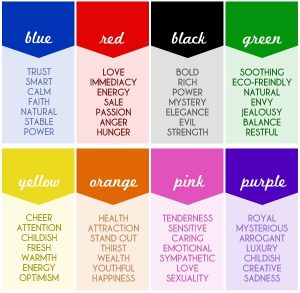 An article in the Huffington Post posed the question, what do the colors you wear say about you? The answer may surprise you. If you find yourself being pulled toward peach or light, smokey blues, it may not simply be because these are the trendiest colors of 2016.
Wearing shades of orange might mean that you embrace a healthy, youthful happy lifestyle. Similarly, wearing blue may reflect a personality that is trusting, calm, smart and stable. The list below includes popular colors and explores what they mean for the individual wearing them. While some may seem obvious, others will be surprising.
Black signifies strength, power, authority, elegance and sophistication.
Brown is a color most often associated with someone who is stable, smart, dependable and well grounded.
Often associated with soothing environments, blue sends out messages of peace, loyalty, positivity and independence.
Considered another calming color, green is at the center of the color spectrum and is considered the color of balance and restoration.
Red is the color of energy and the symbol of life. But be careful, red is also associated with passion, aggression and boldness. Shades of red – pinks specifically – are felt to sooth the aggressive nature of red and are considered tranquil, warm and loving.
Yellow encourages intelligence and inspiration and orange inspires creativity and enthusiasm.
Wearing purple shows you have a rich inner life, are intuitive, artistic and creative.
Beyond personality, colors and prints can complement skin tones or make a person looked washed out or wan. Real Simple Magazine asserts that colors like teal, rose and eggplant flatter every skin tone. To learn more about your skin tone, take the quiz on Real Simple.
The colors you wear can also be dictated by mood and seasons. In the summer, people tend to wear lighter and brighter colors, and, in the fall, our choices get warmer and darker.
As we can see, colors can express our personality, mood and even make a statement about our personal goals. While there are many theories about choosing the color of a wardrobe the most important rule is, love what you wear. Never choose a color which makes you uncomfortable.
Regardless of the color, be sure to read and follow the care label and when in doubt, bring your clothes to any of our Flair locations – Santa Monica, Redondo Beach, Valencia, Burbank and Studio City.