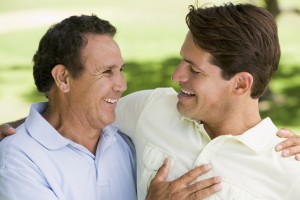 Father's Day. It's a time to celebrate Dad in unique and meaningful ways, and while ties, shirts, and suits are always appreciated, we wanted to share an idea that will last a lifetime and beyond.
Write your Dad a heartfelt letter. Think about the ways he has supported and encouraged you. Tell him how much you appreciate his thoughtfulness, kindness, and the extra effort he put in to show up at your games, awards, plays, and other important events. Let him know how much you appreciate the long, hard hours he worked year after year to give you the life you have.
Share some of your special memories from when you were little to the grown-up you are today.  Tell him what an amazing father and role model he has been. Tell him how much you love him, respect him, and are proud of him. Let him know that you would not be the person you are today if it hadn't been for his selfless love, devotion, and example.
Speaking from experience, that letter will be the most wonderful gift he ever has or ever will receive, and it will be something he cherishes for the rest of his life. And, when the time comes, it will be something you will be grateful to have back.
Happy Father's Day to all the amazing Dads out there.