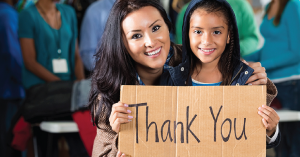 Flair Cleaners 15th Annual Clothing and Shoe Drive begins Friday, November 24 and runs through December 31, 2017. This is the time of year when we ask you to be generous when going through your closets and bureaus. All five Flair Cleaner's locations are participating in this drive that will benefit MEND, the Los Angeles Mission, and Helping Hands for the Blind.
What to Donate?
Clothing and shoes may be gently used but must be in good condition, wearable and not ready to be discarded. Clothing will be cleaned, if needed, and then distributed.
Gently used jeans and other denim products
Sweaters, jackets and coats
Professional clothing
Accessories such as hats, gloves, belts, scarves, purses
Shoes – all kinds and sizes
Children's clothes
Where Can You Donate to the Drive?
You can drop off gently used or new clothing, shoes, and accessories in the designated clothing bins at all Flair Cleaners locations:
Burbank
Santa Monica
Studio City
Redondo Beach
Valencia
Deciding What To Give
Go through your clothes and ask yourself the following questions:
Have I worn this in the past year?
Is this in style anymore?
Will I really wear this again?
Does this fit anymore?
If I went shopping today, would I buy this?
Your answers to these questions will tell you which clothes to donate. And be sure to empty all pockets and purses before bringing them to Flair Cleaners for donation.
We at all the Flair locations are always amazed by the generosity you demonstrate during these clothing drives. The need never ends and you have helped us collect tens of thousands of pounds of clothing over the years.  Let's keep the success going!