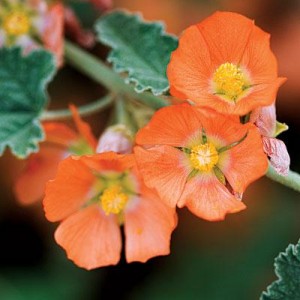 Water-wise gardens don't have to be just gravel and cacti. There are some stunning drought tolerant plants with vibrant colors and scents. We hope a few of our favorites that are all available at local nurseries will inspire your drought tolerant landscape.
These were all found in a recent article in Sunset Magazine.
Apricot Mallow is a native of California. The plant grows to 3 feet in height, and spreads to 2–3 feet in width.The leaves are fuzzy with white hairs on both sides and on long stems, the number of which increase with age.  The flowers are bowl-shaped, 5-petaled, apricot to orange in color, and bloom in the spring
Pink Checkerbloom, native to Oregon, California an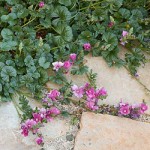 d Baja California, is known for clusters of five-petaled flowers similar to Hollyhocks. It may grow to 2 feet high and wide or sprawl and spread more widely by rooting at the nodes. Pink or purplish pink  flowers bloom in early spring.
Lewisia is native to California and southern Oregon. It grows to about 1 foot high and 10 inches wide. Rosettes of narrow, fleshy, evergreen leaves hold 10-inch stems that are topped by large, extremely showy clusters of  white or pink flowers often striped with rose or red. The plant blooms from spring to early summer.
There are hundreds more like these! Visit the Theodore Payne Foundation in Sun Valley or read the article in Sunset for details.
Take care to protect your clothes while gardening. If you see stains from fertilizer, plant food or even dirt, Flair can help you remove them safely.