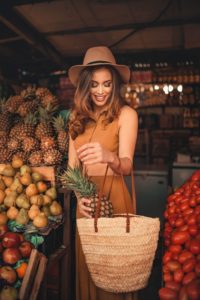 Resolutions are made to be broken, it seems, so instead of making style resolutions, let's shoot for style evolution! Here are six wardrobe upgrades we found on Goop that will help you elevate your look forever!
Elevate Your 2020 Look
Make a smart investment.

Whatever your taste, the right suit, like a home or car, is worth the investment. This year, spend a little more on this staple and it will last you for years to come.  If you choose to go this route, pick a style that not only makes a personal statement, but one that's not so trendy it will be outdated by year's end.

Take risks.

Bright colors, animal prints, and bold designs help you push the edge of your comfort zone. Dark denim and accessories however, keep the look elevated and build confidence, whatever your choice.

Stay up-to-date.

Look for trends that are now everyday staples, like chain-link necklaces, layering, and mixed metals.

Maintain structure.

Add tan, white, and black to your basic wardrobe and create a variety of looks in minutes. Pick some classic silhouettes, fun textures, styles that work year-round, and fun accessories.

Organize.

Start with your closet and dressers. Organize by color and item so combing pieces into outfits is quick and simple. Carry your essentials with you in a stylish oversize bag. It looks better and carries as much as your worn-out tote.

Relax.

When Saturday comes pick comfy clothes. A classic Tee, layered tops, and jeans always work. Or try a loose-fitting dress with boots or sneakers. Add the oversize bag and you're ready for anything from coffee with friends to the farmer's market.