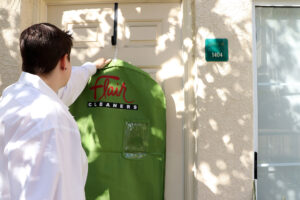 Fall is in full swing, and winter is almost officially here. The days are getting shorter, colder, and darker earlier. There is no better season to start taking advantage of Flair Pickup and Delivery services.
Flair offers hassle-free Pickup and Delivery service at no extra cost. It's the most convenient way to go about your life while taking care of your dry cleaning and laundry. Here are a few reasons our customers tell us that they love this service.
I don't have to fight traffic.
It's safer, especially as the days get shorter.
It makes me feel like a VIP.
I always have clean clothes when I need them.
Reminder emails, the mobile app, 

and text messages make scheduling easy! 
Flair offers the best home and office pickup and delivery service because laundry and dry cleaning service should work around your schedule, not against it.
So say yes to more family time, happy hours, cocoa by the fire on cool evenings, and hitting the snooze button every morning — we've got you covered.