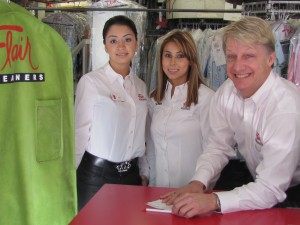 At Flair Cleaners, our reputation depends on the quality of our work and service. That's why we believe that it is important you know the facts – and the fiction – about clothing care.
Fact: Not All Stains Can Be Removed
Successful stain removal depends largely on the nature of the stain, the type of fabric, and the colorfastness of the dye. Our professionals are specially trained to identify stains, fabrics and the best approach to removing stains. Unfortunately, some stains, like ink and dried paint or stains that have set during home cleaning treatments, can be impossible to remove.
Fact: Clothing Care Labels Are Not Always Correct
The Federal Trade Commission's Care Label Rule does not require testing before care instructions are assigned to a garment. They only require manufacturers to 'reasonable basis' for their care instructions. And, they are not required to provide instruction for care procedures, not the best care procedure. Most manufacturers never test garments before the care label is attached.
Fact: Shirts and Other Garments Can Shrink
All clothing can shrink if the material has not been properly preshrunk or if any part of a garment that has not been properly stabilized during manufacturing. Typically, two to three percent shrinkage factor is acceptable.
Fact: Dry Cleaned Clothes Do Not Wear Out Faster
In more than 100 years of textile research and testing, the Dry Cleaning & Laundry Institute has never found any indication that dry cleaning processes wear out fabrics faster than their expected lifespan. However, research proves that failure to have a "dry clean only" garment professionally cleaned on a regular basis can shorten their useful life.
Fact: GreenEarth Dry Cleaning Is Not Harmful To The Environment.
Flair Cleaners uses the GreenEarth dry cleaning process. Clothes cleaned with GreenEarth aren't bathed in petrochemical solvents and come back fresh and clean with no unpleasant odor. GreenEarth is gentle on clothes. Colors and whites stay bright, even after repeated cleaning.
The professionals at our Flair Cleaners in Santa Monica, Burbank, Studio City, Valencia and Redondo Beach strive to give you the best dry cleaning services while staying environmentally safe.