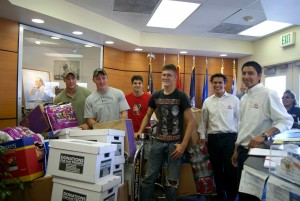 Thank you for making our 5th Annual Flair Care Package Drive a resounding success!! Your generosity helped us deliver thousands of items for active duty military personnel and their families to the Bob Hope USO. By supporting this effort, you've helped provide an important "Touch of Home" to our deployed servicemen and women, our wounded heroes, and our military families.
Over the Memorial Day weekend, we were honored to have provided free cleaning for a record number of active duty military personnel and veterans. As a reminder, Flair offers a year-round discount on all military uniforms.
We also offer complimentary American flag cleaning. We know that many of our customers proudly fly the American flag. Regular cleaning can help keep colors bright and ensure tears or frays are repaired before permanent damage is done.
Thank you again for your selfless giving and continued support of our military and our community.