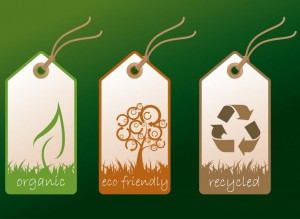 Eco-fashion is one of the hottest trends hitting Southern California. But, what makes it so good for you and the environment?
Eco-fashion usually refers to clothing made from all-natural, organic fabrics, using only natural, unprocessed fibers and dyes, or created from recycled materials and clothes. In essence, it refers to clothing made from materials that do not harm the environment. Many clothing makers are going back to older, less chemically based dyeing processes that don't release toxic chemicals into our water while others are buying fibers grown by organic farms and fair trade co-ops.
Eco-fashions use familiar fabrics that are all-natural, organic, or recycled, and new fabrics like bamboo. Because natural fibers are not woven with synthetics and are not chemically treated, often times they are much softer to the feel but can also stain and fade more quickly. To preserve their look and wear, it's important to know if sustainable fabrics require dry cleaning.
Bamboo: Dry clean anything made from 100% bamboo to avoid shrinking.
Organic Cotton/Hemp: Dry clean delicate and items such as blazers and dresses.
Linen: If the linen has not been treated with wrinkle-reducing chemicals, it should be dry cleaned.
Organic wool: Dry clean almost all wool items.
Recycled polyester: Dry clean suits, dresses, and other dressy items, as well as any polyester item that is filled with down.
"Going Eco" – buying and wearing eco-fashions has many benefits besides looking and feeling great. Clothing made with organic materials from fair trade programs helps support working farms that pay fair wages to their workers. Eco-fashions which use all natural materials reduce your environmental impact. Cleaning these garments at Flair with our all natural GreenEarth Cleaning Process not only keeps them fresh, soft, and safe, but further reduces your carbon footprint.