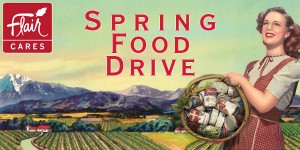 Spring is one of the most challenging times for food banks and food pantries in our area as most donations are made in fall and winter. That's why we started the Flair Cares Spring Food Drive two years ago. The response from our community and the nonprofits we supported has been so overwhelming, that we decided to do it again in 2018.
The 2018 Flair Cares Spring Food Drive begins May 1. Here is everything you need to know to participate.
Spring Food Drive Details
Dates: May 1 through May 31, 2018
Where: All five Flair Cleaners locations
Thank You: 50% off certificate for dry cleaning for everyone who donates
Flair Matching: Up to $1000.00 of food at each location
Food Needs:
Canned Food: Beans, fruit, meat, pork & beans, soup, Spaghetti-O's, stew, tuna, vegetables
Packaged Food: Cereal, fruit juice, lentils, macaroni & cheese, nutrition bars, pasta, peanut butter, pinto beans, powdered milk
Baby Food: Crackers, cookies, infant formula, jar food (all types)
DO NOT Bring: Cup of Noodles, Ramen Noodles, anything in glass, food that has passed its expiration date
Supporting: Westside Food Bank, Burbank Temporary Aid Center, Santa Clarita Valley Food Pantry, and North Hollywood Interfaith Food Pantry
If you have any questions, let us know. Thank you in advance for joining us in supporting our neighbors.