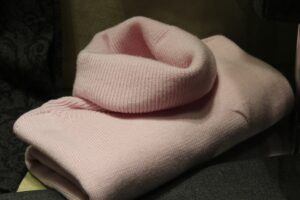 Comfy, feel-good, and delightfully warm, a full sweater drawer is a must-have for fall. Proper sweater care extends its life. Remember though, care methods can vary by fiber content. For example, a pullover made with cotton is more resilient than a cashmere cardigan. This guide includes expert tips that will help you care for sweaters from virtually any fiber.
Cashmere
Cashmere is finer and softer than other types of wool and a sought-after fiber for sweaters. Without a doubt, dry cleaning is the best way to extend a cashmere sweater's lifespan.
If for any reason your cashmere sweater gets wet – caught in the rain, perhaps – air-dry it to preserve the shape and consistency. Use a towel to pat the excess water off, then lay it on the towel and carefully roll it up to absorb the moisture. Use a drying rack to air-dry completely.
Wool
Wool sweaters, like wool suits, are best cleaned by dry cleaning professionals. If you spill, however, use a clean towel or napkin to gently blot and lift the stain away. Then take the sweater directly to Flair and let our team know what caused the stain. In between cleanings, remove wrinkles with a  hand steamer or by hanging your sweater in the bathroom while you run a hot shower.
If your wool sweaters get damp – playing in the snow, perhaps – roll it up in a towel. Then air-dry it flat on a clean towel or drying rack.
Cotton
Unlike its wool and cashmere, cotton sweaters can be washed at home. While hand-washing is always best  you can use a machine on the gentle cycle. When in doubt, check the care label. To avoid shrinkage, air-dry cotton sweaters by laying them flat on a clean towel or drying rack. Remove wrinkles with a steamer or iron.
Mixed Fibers
If your sweater is made from a mix of materials, such as a cotton and wool blend, check and always follow the care instructions.
Storing sweaters
Fold all of your sweaters, including cardigans. Don't overstuff your drawers – give sweaters room to breathe. During summer, clean and fold sweaters into garment bags and store them in a cool, dry place.