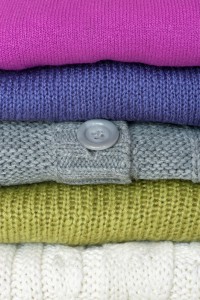 Cooler November nights signal that it's time to break out your sweaters!
Even though you may have taken care to pack clean sweaters carefully away, musty odors can still creep in and simply airing them out may not be enough. Bring them in to Flair where our professionals will ensure they are clean, refreshed and ready to wear around home, at work, or on the slopes.
To keep your sweaters looking their best in between cleanings, follow these tips:
• Remove pills by holding the sweater flat with one hand and slicing off pills one at a time with a simple, plastic razor. Manual pill removers work, but if used improperly, they can cause snags.
• Treat stains right away. Blotting spills having your sweaters professionally cleaned will help prevent stains from becoming permanent.
• Gently brush sweaters after each wearing. This revives the nap and removes loose soil.
• If wool sweaters get wet in rain or snow, let them dry flat at room temperature away from heat, then brush gently.
• Check knitted sweaters for unraveled or frayed threads. Secure any loose yarn so the sweater can withstand normal use and care without further damage.
• Place folded sweaters over padded hangers in a well-ventilated closet or in drawers. Do not hang sweaters from the shoulders; the weight of the sweater can cause it to stretch.
• Before putting them away, empty pockets, remove belts, and close zippers.
• Clean sweaters regularly at Flair to extend their life. A good rule of thumb is to clean sweaters after every four uses, unless you spill, perspire or wear them in a smoke-filled area.
Different fabrics can present different challenges when cleaning sweaters. Your cleaning professionals at Flair Cleaners are well versed in all the various styles and fibers. At Flair, we also offer laundry service, and can care for all your sweaters, regardless of the cleaning instructions.