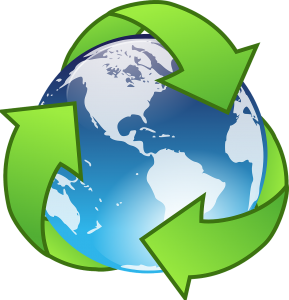 In honor of Earth Day, we want to share a few ways  to go green by reducing waste and reusing items at home.
Buy refillable spray bottles that can be refilled from large containers to reduce waste and save money.
Use a microfiber cloth, which can take the place of 60 rolls of paper towels before it needs to be replaced.
Stash leftovers in reusable containers instead of plastic bags.
Roll up a couple of old magazines and stick one into each of your calf or knee high boots as boot trees, helping to keep the shape of your boots.
Flatten empty toilet paper rolls and use them as knife sheaves to protect knives and fingers.
Don't through away your old shower curtain! Wash it with the garden hose then stash it in your car's trunk. Use it to line the trunk when carting messy paints or picnic and beach gear.
Go Green with our Better Bag, available at Flair locations in Redondo Beach, Santa Monica, Studio City, Valencia and Burbank, it's actually three bags in one – a laundry bag, duffle bag and a garment bag.  If yours wears out, bring it in to any Flair location; we will replace if for free and recycle the old one.
We'd love to hear your Earth Day ideas. Be sure to share on Facebook or in the comments below.
Happy Earth Day!