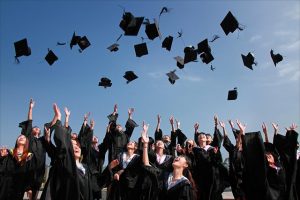 Celebrating New Graduates
Congratulations! You've graduated! It must be a very proud moment. Chasing a dream requires effort and passion. As new graduates, you are in the midst of transitioning to new challenges. You are faced with choices. Where will you  work and live? Will  travel before embarking on a career? What type of lifestyle you will embrace? These decisions all impact different parts of your everyday life,  including your wardrobe.
For example. the clothes you wore in school, may not always translate to work attire.  Your profession might require:
A professional suit
Medical uniforms
Work uniforms
Casual business outfits
Military uniforms
Or, if you seek adventure before settling into a job, travel destinations may influence your clothing choices.
Whatever path you take, the experts at each of our Flair Cleaners locations will be sure you're ready for every path you take in life. Flair Cleaners' expert tailors will give your clothes that fit your body perfectly, and are repaired for longer life. Our cleaning team will give you the clothes that help create the exact impression you wish to make. Finally, our cobblers, will add the finishing touch so you shine from head to toe.
Advice for Graduates
Your education is a most powerful tool, which you can use to change the world. Follow your dreams and believe in yourself. You've taken on the most incredible, amazing journey to achieve your goals this far. Continue to climb and aspire excellence. Always remember that money can be stolen, strength may fail, but what you've learned is yours forever. Believe in yourself, in your talent and skills and you will go far.
From all of us at Flair Cleaners throughout Southern California, Redondo Beach, Santa Monica, Burbank, Studio City and Valencia,  congratulations graduates and good luck in your future adventures.