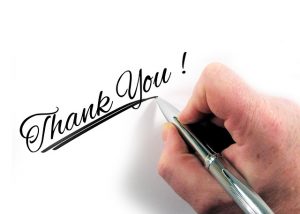 Thanksgiving is the unofficial opening event to the holiday season. Visions of family gatherings, festive meals, and the traditional football games come to mind. As the first event of the season, it is fitting to pause and reflect with gratitude on our blessings.
With Gratitude from Flair Cleaners
All of us love the wonderful communities we serve – Burbank, Redondo Beach, Santa Monica, Studio City, and Valencia.
We appreciate our customers, who support our Annual Clothing and Shoe Drive and Spring Flair Cares Food Drive.
Each of us is grateful to you for your loyal patronage. It is a privilege to care for all your cleaning needs.
We are proud of the professionals in the Flair family.
We are grateful for the opportunity to offer services that meet all your cleaning needs.
We appreciate the opportunity to provide you with the industry's leading edge, environmentally-friendly, cleaning processes that are gentler on your clothes and safe for our world.
And finally, we are grateful that your loyalty keeps us striving to provide you with the best and most innovative dry cleaning practices available.
With gratitude from our entire Flair family, Happy Thanksgiving.