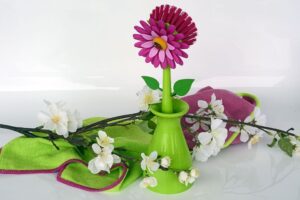 We all know that this winter has seemed longer and harder having spent virtually all of our time in our homes without family and friends due to the pandemic. While snuggling up with families can be nice, this year it's felt like we've been indoors for an eternity. Finally! Spring and warmer weather are here. What better time to kick the winter blues and than a full "green" spring cleaning?
Tackle spring cleaning in small doses so it doesn't become overwhelming. A good place to start is sanitizing your garments and household items, using Flair Cleaners GreenEarth cleaning process. It is difficult to see the germs, dust, and food that builds up on furniture and clothing through time. Sanitizing with GreenEarth will awaken your senses with fresh air, soft touch, and a clean look of the pristine fabric. All of this is accomplished with a natural silicone-based solution that is proven to be safe for you, your clothes, and our planet.
The feeling of cleanliness will boost your productivity and mental positivity. It will help remote employees focus more on work and provide the office environment necessary for success.
At the end of the day, when you've completed your green spring cleaning, you can take pride in your belongings and know that you achieved it all while using a healthy, environmentally safe choice with GreenEarth Cleaning, the only truly sustainable way to clean clothes and your household items like; comforters, linens, curtains, rugs, upholstery, and tablecloths.
So bring your items to Flair today for a clean you'll love tomorrow.
As far as the rest of the house, it's important to know what's in your cleaning products before you continue your green spring cleaning. We all know you can make your own using white vinegar and baking soda, with a little added lemon or orange. With our busy schedules though, this is probably not realistic. Don't worry, there are a host of options. We found this article in New York Magazine to be a good resource.