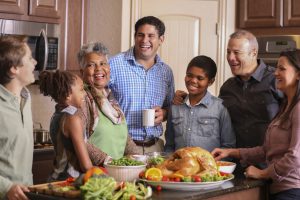 Tomorrow, many of us will join friends and family to give thanks for what we have, those we cherish, and blessings to come. As we prepare to celebrate Thanksgiving, we want to let you know how much we appreciate each of you. Thank you for your business and for making our jobs enjoyable and rewarding.
We'd like to remind you that our 16th Annual Flair Cares Holiday Clothing and Shoe Drive starts Friday. We hope you'll take a moment to clear out the clothes and shoes you no longer use, and drop them at any of our locations by December 31. We will clean all donations, if needed, and donate to nonprofits supporting each of the communities where Flair does business. The 2018 drive benefits the Los Angeles Mission, MEND, and Helping Hands for the Blind. Tax receipts are available.
We have no doubt that everyone has at least one garment or a pair of shoes that they simply don't wear or want any more. Now is the time to get them out of your closet and into the hands of those who need them most. This is the 16th year our customers have joined us in this important drive. We are grateful for them and for the opportunity to make a difference in the communities we serve.
Please empty all pockets before donating. A list of items needed most by these nonprofits can be found on our Facebook page.
We hope you enjoy a happy and peaceful Thanksgiving.