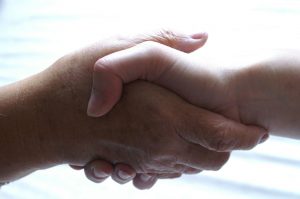 As we continue our 14th Annual Holiday Clothing and Shoe Drive, we wish to share more about one of the charities we support, Helping hands for the Blind. Founded in 1990, Helping Hands is a non-profit organization whose goal is to promote social, economic and educational opportunities for the blind. Much of their funding comes from their thrift stores, which sell gently used clothing and other items.
One of the most important services offered by HHB is assistance. This includes financial assistance for rent or groceries. Quite often, however, it can take other forms. Referrals are made for legal matters concerning the blind, as well as arrangements for reduced fees from attorneys.
Another important form of assistance is to provide a Mobility Instructor. When a blind person is new to an area, it is important that they be shown how to get around by a trained and knowledgeable instructor. There is a large and growing demand for this service.
The main goals of Helping Hands for the Blind are to:
Provide free talking computers to needy blind children and adults
Arrange for reduced legal fees where appropriate
Offer mobility instruction to enhance travel abilities
Give timely assistance to blind persons in need of help
Arrange legal assistance
Bestow financial grants to blind students
Take care of travel assistance for blind persons
Administer special programs specifically designed for the blind
Respond to special requests based on individual evaluation of need
Assist with government forms
We are proud to support Helping hands for the Blind through our 14th Annual Holiday Clothing and Shoe Drive. Drop your new and gently used clothes at Redondo Beach, Burbank, Studio City, Valencia and Santa Monica. Be sure to check and empty all pockets before you leave your clothes.