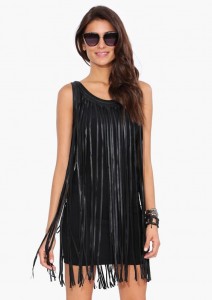 Fashion Week is over and spring is nearly here! It's time to check out women's fashion trends for 2016. This year's styles are a blend of the past, present, and future, from the modernization of retro silhouettes, to Spanish ruffles, and pajamas as daywear. Be on the lookout for these must-have additions to your wardrobe.
• While some may proclaim minimalism is dead, that '90s staple, the slip dress, is making a comeback. This time, simple strappy numbers are replaced with slips with bits of lace, ruching and graphic color play.
• Suede, fringe, and all the accouterments of the cowboy-style are back but with a less literal, modern flair, like a dress with swinging leather fringe.
• Bold, bright oranges and yellows are being used in stripes and plaids for work, casual, and evening wear.
• Romance is back with pleats, lace, and lots of ruffles on fetching off-the-shoulder designs.
As for women's accessories, metals of all kinds – silver, gold, bronze and copper – are everywhere. Many designers including Gucci, are piling on the jewelry and accessories, layering scarves and necklaces, showing rings on every finger, and adding bracelets and watches up to the elbow.
• Chunky chain links are making a bold statement as chokers and handbag handles.
• Mismatched shoulder-grazing earrings provide great conversation starters. Look in your jewelry box and pick one each from two different pairs.
• Tiaras and ornately embellished headbands complete the look both for the office and the evening.
• As for women's shoes, pick a new pair of flat mules in designer fabrics.
• The humble rucksack, now with personalized and in designer fabrics, is back.
Whatever women's fashions you choose, the professionals at Flair Cleaners in Santa Monica, Studio City, Valencia, Burbank and Redondo Beach are here to help you keep your clothes clean and ready for anything!