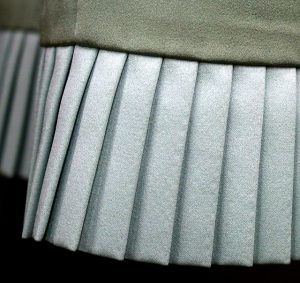 Pleats – there is just something about them that makes them fun to wear! Whether at work or out at night to a fancy party, pleats are a must-have classic that can be worn year-round. To keep pleated skirts looking like new, you must maintain each individual panel. Done right, your pleats will look fantastic and trendy year after year.
Preserving Pleats
Most manufacturers recommend dry cleaning and professional care for pleated garments. In between, however, these tips may help.
Start by finding an iron and several large paperclips.
Hang your pleated garment after wearing it to encourage the panels to naturally fall into place.
Lay the garment on an ironing board. Clip each pleat with a paperclip and press, moving the clips as you go to avoid ironing them.
Set the iron to the hottest steam setting. Start from the waistband and press the iron downward onto the panels. Hold for five seconds and then pull up. Repeat as needed.
Hang the skirt up immediately and remove the paperclips. Once the skirt cools completely, hang it in your closet to prevent further wrinkling.
Most pleats come out as the result of sitting.  This is unavoidable.  However, taking time to care for them properly between cleanings will help them stay crisp.
All Flair Cleaners – Burbank, Redondo Beach, Santa Monica, Studio City, and Valencia – are ready to handle your cleaning and pressing needs, including replacing and maintaining pleats.