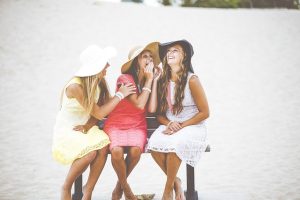 It's summer and wow, has it been HOT. That means more trips to the beach and pool, more BBQs, and even camping. It also means new clothes cleaning challenges! Most of us simply toss summer clothes in the washer and dryer. If you do, you may be creating new problems. Some summer clothes and fabrics require more care and attention, so before you wash, stop and consider these tips to keep your summer wardrobe looking good.
Keep Your Summer Looks Hot
Silk, linen, and gauze fabrics require special care when soiled.
Gauze clothes are light-weight and made of loosely woven cotton. The loose weave can stretch if washed in a standard machine and can shrink in the dryer.
Linens and silk are two of our favorite summer fabrics. They are lightweight and breathe, keeping you cooler than heavier denim. Linen tends to wrinkle and stretch and may need a professional touch-up. Silk can burn easily in dryers that are too hot or when being ironed. Both can stain easily if the wrong treatment is used.
Loosely woven knits rank high in summer clothing choices. These should always be dry cleaned so they hold their shape. After cleaning, store them folded to prevent stretching.
Keep in mind, summer stains from insect repellents to suntan lotions are particularly hazardous to summer clothes. Bring these types of stains in as soon as possible, and let us know what caused it and what you've already used to treat it.
For all your summer cleaning needs Flair Cleaners' five locations are here to take care of every one.