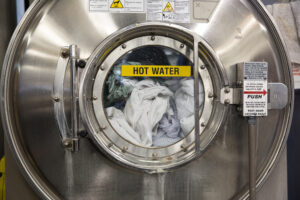 .We found some fun laundry trivia and thought they'd start your year on a bright note!
Clothesline Signals Aid Victory in the Revolutionary War. 

The Culper Spy Ring used laundry lines to become the most effective intelligence-gathering operation in the Revolutionary War. A tavern-owner Patriot watched the ships and troops in Long Island. When he went to Manhattan to buy supplies he shared the information with other Patriots. One of them, Anna Smith Strong, used the laundry on her clothesline to send signals to other Patriots.
Laundromat Counter Intelligence. The British military used laundry to save lives. During the war in Northern Ireland, they built a laundry and staffed it with locals and undercover officers. The laundry sent out "color-coded" special offers that matched specific streets. They laundered every item and put each through an analyzer. It checked for bomb-making residue. Using the colors, they identified places where bombs were being made. They then made arrests and confiscated bombs, weapons, and materials.
Laundry in Dreamland. Do you ever dream about laundry? If so, here's what it might mean.

If you are doing your laundry, it suggests that you are cleaning up your act or changing your image.
However, when someone else is doing your laundry, you've been gossiping or airing someone's dirty laundry.
When you dream about  sorting laundry, it indicates that you are trying to understand your feelings
Laundry Bag Saves Lives. In the United States Air Force, no one goes on any flight without his or her laundry bag, aka a parachute.
Wash and Fold Laundry Saves Time and Money. If you have a busy schedule or just hate doing laundry, we've got your solution!  Flair Wash and Fold services available at every location. Use our Pickup and Delivery service or bring your laundry in with your next order!
This trivia just might impress some of your friends – feel free to share.