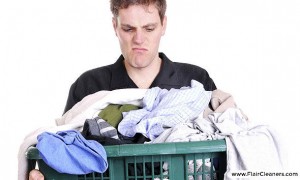 Don't you hate laundry? And then there's ironing!  If you feel like it's a never-ending chore that you dread, you are not alone. Studies have found that doing laundry and ironing are two of the most disliked household chores.
A 2001 survey showed that the average American woman spends seven to nine hours each  week doing laundry. This equates to 500 pounds a year! Is this really the best use of time in what is usually an already too busy week?
Psychologist tell us that the benefits of looking and feeling good impact every part of our lives, even actions that may seem ordinary or routine. Brushing your teeth, styling your hair, or wearing a freshly cleaned and pressed shirt can  have a positive impact on how we feel, and as a result, how we interact with others around us. Feeling good can become a self-fulfilling prophecy: if you feel good, it seems like nothing can go wrong.
On the other hand, the stress caused by having to wear a wrinkled shirt, or a jacket that will look better after cleaning, or rushing out without taking time to tidy up the kitchen, for example, can have the opposite impact.
Luckily, there is an option that frees up your time, can save money in the long run, and is actually better for  your clothes.
Bring your clothes to Flair. Our professional cleaning equipment and environmentally sound GreenEarth cleaning process, breathes new life into older garments, eliminates wrinkles, removes soils and stains that home cleaning can't get out, helps you look great and protects your clothes so they last longer.!
Give yourself a break. Let Flair do the dirty work!