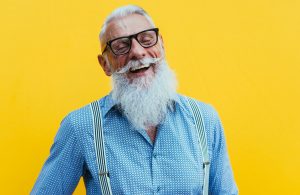 When you look good, you feel good and have more confidence. Is there a difference? Yes, actually. Self-Esteem describes how you feel about yourself. People use words like a positive self-image, self-regard, self-love, and self-respect when talking about self-esteem. Self-Confidence on the other hand, refers to your belief in your abilities. When you know you can accomplish something or learn something that's self-confidence. And, it's possible to have self-esteem and lack self-confidence and visa versa.  So what do clothes have to do with it? They matter more than you know.  Let's take a look.
Fashion Improves Your Self-Image
How you look physically influences your feelings and attitude about yourself. Some refer to this as having a positive body image. Regardless of your shape or size, you can dress in a way that improves your self-esteem. It starts by knowing your body type and choosing clothes that work best. Or, by having your clothes professionally tailored for the ideal fit. There are five basic body types: rectangle, inverted triangle, pear, hourglass, and apple.
Rectangle (a similar width throughout your body from shoulders to waist): Create some curves. V-neck or off the shoulder styles and tops, form fitting bottoms, and trumpet or pencil skirts to extend the illusion of curves.
Inverted triangle (broad shoulders, slim hips and shapely legs): Create balance between your shoulders and narrower lower body. Wrap style and v-neck tops, A-line skirts, and fit and flare dresses look great on this shape.
Pear (the widest part of your body is at your hips): Strive for balance. Fit and flare dresses and structured jackets are ideal for this shape.
Hourglass (curvy with a smaller waist):Highlight your curves, don't hide them. Look for wrap dresses, tailored blazers and jackets, and pencil skirts and wide leg pants, to define your shape.
Apple (you have a slim lower body carry weight around your middle): Highlight your  shoulders and legs with flowing styles, low rise and straight leg pants, and shift dresses.
Fashion Exudes Confidence
Not only can what you wear increase your feeling of self-confidence, but it can communicate self-confidence to others. This is important in pretty much all areas of our lives. When picking your outfit, consider theses five things:
Know the colors you love and that love you. Build a wardrobe around them.
Define your style. Be true to yourself and appreciate and let  your uniqueness shine.
Find examples. Start your own look book on your phone – keep pictures styles you see and like, and of those that have worked for you. Keep them for reference.
Play, practice, and have fun. Don't be afraid to try something new. If you don't love it, donate it.
Adopt a statement piece. It can be a pin or scarf or sunglasses – whatever you love. When you decide, invest in variety and wear one with every outfit…like a different pin every day!
Most important, have fun! Life is too short not to! Choose clothes that make you feel good and boost your confidence without compromising who you are. Don't worry what others think, simply be your beautiful self.