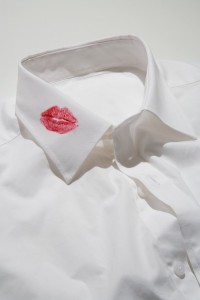 Let's face it. Everyone has at least one piece of clothing they absolutely love! It might be a "go-with anything" sweater or the world's most comfortable pair of pants or a "power" tie. Whenever you wear it, you always look and feel amazing! It's no secret that men and women have an emotional tie to their clothing.
So who better to put a little flair in your clothing romance than Flair Cleaners?! These tips will help you fan the flames, nurture a budding relationship with a new found love, and truly care for the clothes you love.
Stains and soil left too long can be impossible to remove. Studies by the Drycleaning & Laundry Institute show that after aging for only one week, 20% of stains cannot be removed satisfactorily. After three weeks, this increases to 47%. If staining occurs, bring stained garments to us as soon as possible.
Don't press stained or soiled clothes. Heat is another factor that makes stains and dirt more difficult to remove.
Point out spills such as those from white wine, fruit juices, or soft drinks, or other stains that may not be visible, when you bring in your cleaning. We give these invisible stains special attention in order to prevent them from permanently discoloring your items.
Perspiration can cause dyes in fabrics to change color so, if possible, protect your garments from excessive contact with perspiration.
Always allow lotions, antiperspirants, perfume, and other toiletries to dry before you get dressed. These products can contain ingredients that cause color loss or color changes in your clothing.
Protect your clothes from prolonged exposure to direct sunlight or strong artificial lights to avoid fading and discoloration.
Clean all matching pieces together. Whether your work surroundings call for appropriate casual or traditional attire, we know that how you look matters.
Store clothes properly to maintain garment shape, either folded or on hangers, depending on the item, and leave room for air to circulate freely.
Treat your beloved garments with respect. Read the clothing care labels and leave the "dry clean only" items to Flair.
Protect your clothes and the environment with Flair's GreenEarth Cleaning Process.
At Flair, we care for your clothes as much as you do. For more tips sign up for our monthly e-newsletters or ask any Flair Cleaners customer service representative.