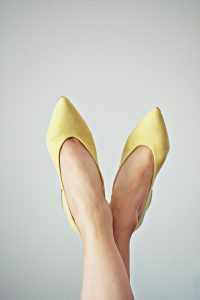 One of my favorite pair of shoes was an open-toed black suede pump. I wore those shoes to work, to events – everywhere. For pumps, they were remarkably comfy! Unfortunately, I wore them out way too quickly. I wish I'd know then what I learned from the cobblers at Flair Cleaners. At least now, I will get to enjoy my new favorite pumps for many years. So, here are the secrets they shared with me.
Always make sure your shoes have a space in the closet. Line them up carefully on the floor or on shelves. Never throw shoes into a big bin. This scuffs the material and causes them to lose their shape. Keep the original shoe box and packing and use it for storing shoes. While it takes longer, it makes a difference in the long run.
Always use clean tissues when storing soft leather or suede.  Gently pack it inside each shoe to help them maintain their shape. Otherwise, they can sag and crease.
Take off your dress shoes as soon as possible when you get home! This protects the shape and heel, and extends their lifespan.
Store leather and suede shoes in a cool area. Never expose them to direct heat. If they get wet or damp, let them dry naturally (see #2).
Never wear leather shoes two days in a row. Give them a full 24-hours in between so they can dry out from foot perspiration.
Gently clean leather shoes that are exceptionally dirty with a damp cloth and pure soap like Ivory. Or, better, bring them to Flair Cleaners where their cobblers will clean and, if needed, repair them.
Condition leather boots and shoes before you wear them the first time, and then again every three months. This helps prevent drying, cracking, and water damage. Pamper leather the way you'd treat your own skin.
Suede's number one enemy is water. Alway treat or have a professional treat your suede shoes before you wear them. (You should do this for any suede you own – purses, jackets, etc.)
At least once a year bring your expensive or favorite shoes to Flair Cleaners for professional cleaning and maintenance. This last one isn't something most of us think about…but hey, it's like caring for your car. A regular tune-up makes all the difference in the long run.
Contributed by Ann Aufmuth