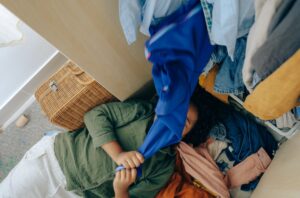 Whether you live in a small home or tend to have a constantly expanding wardrobe, you need more storage space for your clothes. The last thing you want to do is put your fresh wash and fold laundry, or dry cleaned clothes away in places that create wrinkles or expose them to dirt and potential stains!
It may be time for you to get your clothes out of the closet. We found creative options that work in virtually any room and provide ample storage to protect your clothing investment and ensure your clothes are ready when needed.
Visit a flea market or antique store, look for old trunks or steamer trunks, and repurpose them. These trunks come in various styles and sizes, making them a fun and functional option. And, they can be restyled easily to match your decor. Trunks are ideal for spots like the foot of a bed or living room.
Racks and Shelves
Depending on your space, inexpensive, adjustable storage racks or shelves can be an ideal option. Add a few bins to help keep items separate. Wire racks come in a range of sizes and heights, with optional plastic shelf liners that prevent items from slipping through the openings. These are ideal for shoes, coats, outdoor accessories, and more. If you are looking for a virtual closet, a clothing rack is a good option for almost any space. While your clothes will be visible, a little creativity can make the rack part of the room design – think boutique.
Don't forget your bookshelves! Use these for T-shirts, pants, sweaters, and other folded clothing. If you don't want the clothes to show, hang a curtain or beads or another decorative cover. Bookcases can also be effective for jewelry, shoes, and accessories.
Hidden Spaces
Think of all the unused spaces in your home – under chairs and beds, on top of cabinets, and more. Do a little investigating – you may be surprised. These spaces are ideal for storing off-season clothes and items like showed and extra handbags or belts. Look for rolling storage drawers, short plastic bins, and other containers that fit the space nicely. Then neatly fold the clothing and put them for future use.
Many footstools and ottomans open up to provide storage. Think about using these for items you may not need frequently.
Walls
Accessory storage (hats, scarves, and jewelry) is often an afterthought that can lead to clutter. Instead of cramming them in a drawer, use them as part of your room decor. Removable hooks, wall organizers, thin nails arranged in a pattern, or a clothes hanger for scarves (tie each item in a knot around the hanger) can make a feature wall. The hanger also fits nicely on a clothes rack!
Or, use a picture ledge and attach a strong rail securely underneath. This lets you hang hooks for clothes, bags, jackets, and more. or screw-in hooks to the bottom for lighter items. Don't forget the top; it's great for sunglasses, purses, and shoes.
Wardrobes
Remember, you can always purchase an exterior closet or wardrobe. These are plentiful in thrift shops and used furniture stores and can be used in virtually any room. They also go with you when you move to a new space, making them a good investment.
With some creativity, planning, and time, you will be surprised at how much storage space you can discover at home. And you'll never have to stress about bringing home freshly cleaned clothes again.