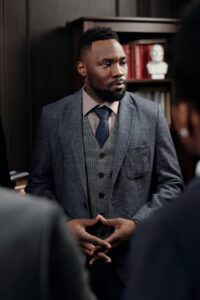 Professional suit cleaning prolongs the life of a suit, which we all want, given the investment you make when adding any suit to your wardrobe. Most of us wear suits when we want to create an impression or make a statement in a social or work setting. Professional suit cleaning will ensure your suit always looks its best.
When to Professionally Clean Suits?
If you get a stain on your suit, immediately take it to Flair Cleaners. Do not risk spreading the stain, letting it set permanently, or ruining the fabric by trying to clean it yourself. With advanced equipment and products, Flair can clean your suit without any remaining residue or damage to fabric fibers. So, if you see any stains, professional suit cleaning is the answer.
You may not wear your suit daily or even weekly, especially in today's remote work environments. When you need it, you may find it has a layer of dust, wrinkles, or accumulated direct. These all point to the need for professional suit cleaning. While brushing or shaking your suit removes bigger dust particles; smaller ones may still linger. And a professional cleaning is the only way to get rid of them.
If you do wear suits every day, you will want to clean them more often because it is exposed to dust and dirt more often. Even if you only wear them occasionally, dry cleaning will help keep them in good repair and looking their best.
And, with Free Pickup and Delivery from Flair, looking your best has never been easier.