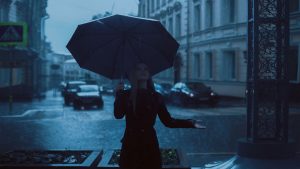 Even as the temperatures start to climb again, we remember how grateful we were for the rain this past weekend. In our drought stricken state of California, we rejoice when it rains and even go outside to enjoy it. If this is you, beware. Rain water can stain your clothes.
How Rain Water Stains
Rain, like all water, is comprised of two hydrogen atoms and one oxygen atom. Depending upon where it falls, it may contain or pick up other elements, minerals and even dirt before landing on your clothes. The dirt and element stay on your clothes after the water has dried, and without proper cleaning, can be worked deeper into the fabric.
Even the cleanest rain water can dislodge finishing agents such as sizing or starch. When that happens, the agents form rings on the surface of fabrics. These are known as water stains.
Removing Rain Water Stains
So, how do you get rid of water stains? There are several ways to remove these stains from washable fabrics.
Dampen and blot the entire area around the rain water stain and allow it to dry. Or, carefully hold the affected area in the steam from a boiling kettle.
If the garment can be ironed, press while still damp.
For your special garments and those that recommend dry clean only, visit one of our Flair Cleaners in Santa Monica, Valencia, Studio City, Burbank or Redondo Beach for assistance. Our stain removal professionals know how to work with rain water stains and will do their best to remove them from your clothes.