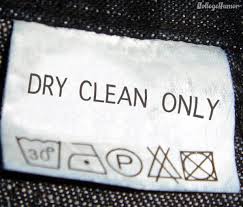 The Federal Trade Commission requires that garment manufacturers attach a label providing directions for safe care to clothing.  These instructions must be easy to find and read, and permanently attached. We urge you not to remove these labels. In addition to the words, symbols provide dry cleaning professionals like Flair with special information  critical to the proper care of each garment.
We know that care labels can seem confusing at times, so here are some simple explanations to for some of the most common care labels terms:
Dry Clean – any dry-cleaning process can be used. This may include moisture, pressing by steam or steam-air procedures, and drying up to 160°F.
Spot Clean Only – do not immerse or clean the entire garment. Remove stains only.
Bleach – "Do Not Bleach," "Non-Chlorine Bleach Only" or "Bleach When Necessary," tells you about the kind of bleach to use and when.
Machine Wash – use a commercial or home washing machine. Usually the type of cycle to use, the water temperature and use of softeners and drying instructions are included.
Hand Wash Only  – gently soak with limited agitation, by hand. Other information may include specific water temperature and drying instructions.
Tumble Dry – use a machine dryer. The label may indicate the temperature to use – low, medium, permanent press, hot or air.
Line or Drip Dry – place the item on a clothesline or non-mental hanger when removed from the washing machine. If heat sensitive, the label may say, "Line Dry Away From Heat."
Dry Flat  – place the garment on a towel in order to absorb moisture as it dries or using a flat drying rack.
Iron – iron or temperature settings are usually indicated, like "Cool/Low Iron," "Warm/Medium Iron," "Hot Iron," "Iron On Wrong Side Only," "Steam," "Do Not Steam" or "Iron Damp."
It is important to note that washable does not always mean a garment should not be dry cleaned. The manufacturer is required only to list one safe cleaning method, even if is not always the best.
Your cleaning professionals at Flair Cleaners have the training,  knowledge and experience to know which method is safest for your wardrobe.