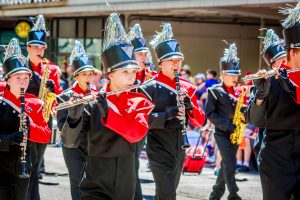 Fall signifies many things – a change in the weather, back-to-school, and football!  And, where there is football, there is usually a marching band. If your student is in the band, we know that you take special pride in their performances and want to be sure their uniform is cleaned and ready for every event. At Flair, we're ready to help you keep your musical star looking great.
Caring for Band Uniforms
Band uniforms are very expensive and generally require professional cleaning. Most are constructed from wool or a wool/synthetic blend. These fabrics are vulnerable to damage from perspiration and rubbing under the arms and at the sides during marching. These uniforms are subject to a wide range of stains as well, including ink, food, sugar drinks, grass, and mud. This isn't surprising when you think about all the rallies, games, parades, and special events band members attend. These tips can help uniforms last at least one season, if not more.
To lessen damage from perspiration, encourage your musician to wear a t-shirt under the uniform. This absorbs much of the perspiration and keeps it away from the uniform fabric.
When spills occur, tell your student to blot the area, but never rub. Then be sure to find out about any stains and what caused them as soon as possible.
Do not try to treat the stain with water or other remedies as that may cause further damage and push the stain deeper into the fabric weave.
Clean uniforms as soon as possible after each use (usually between football games) in order to prevent any stains from setting and to avoid attracting insects, which prey on wool fibers. Tell the professionals at Flair what caused the stains and show us where they are.
Always follow the instructions on the care label.
Remember our professionals are here to help with difficult stains and even items that may be cleaned at home. We appreciate the investment you make in your children and will do everything it takes to protect it, and to ensure your musical star shines at each performance.