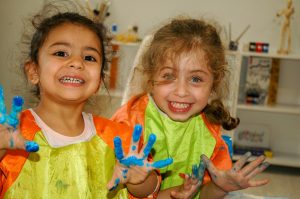 It's back to school time and for many with younger children that means art projects. And art projects often involve paint. So, how do you get paint out of clothes and off your kids?
On Clothes
It depends. Watercolors are fairly easy to remove. Simply treat the area and wash as normal. Acrylic paints  and oil paints will leave permanent stains unless dry cleaned. If you wash acrylic paint stains, they will set and your children clothes will now be art projects as well. At Flair Cleaners we use special treatments to clean and flush out all of the pigments in acrylic paints. And, your clothes will be returned fresh, clean, and chemical-free, so they are healthy for your little artists.
On Children
Water-soluble paints will come off very easily, but acrylic or oil-based paints are a little more difficult. These paints will not bond with the skin, and may simply flake or peel off after drying. A little rubbing alcohol and a dry cloth can get the paint to come off and clean the skin's pores.
If you have any additional questions, let us know.