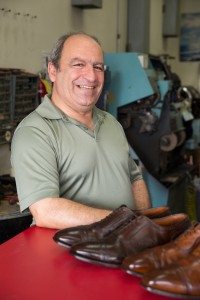 Shoes can be one of the biggest wardrobe investments you make, financially, emotionally, and physically.  It's not often you hit the trifecta of shoes – amazing comfort, stunningly beautiful, and affordable (or a treat) – but when you do, keeping that favorite pair in tip top shape will ensure it lasts as long as possible.
Here's what our expert cobblers recommend:
1.  Waterproof. Even in Southern California, it's best to be prepared for damp environments.
2.  Alternate shoes. We know they are your favorites, but try not to wear them two days or more in a row. By changing shoes, you allow the inside to air out, dry out and breathe.
3.  Dry wet shoes naturally, stuffed with newspapers or tissues to absorb the moisture. Never throw them in a dryer or oven. Harsh drying can ruin leather soles and cause the uppers to stiffen and warp.
4.  Clean the insides. This is especially important if odor is a problem. Swab the insides with alcohol or a drop of tea tree oil. Don't splash so you don't stain the outsides!
5.  Wear socks or shoe liners. This will protect the insoles from perspiration and erosion.
6.  Use shoe trees. These help maintain the shape of the shoe, reduce creasing and help prevent the sole from curling up.
7.  Add a soft rubber or leather insole. This cushions your feet and may absorb odors.
When your shoes need new soles or other repairs, get them done immediately!  And, remember Flair Cleaners has in-store shoe repair at most locations.